Harry's Abbotsford Auto Pro Ltd. (Abbotsford)
0400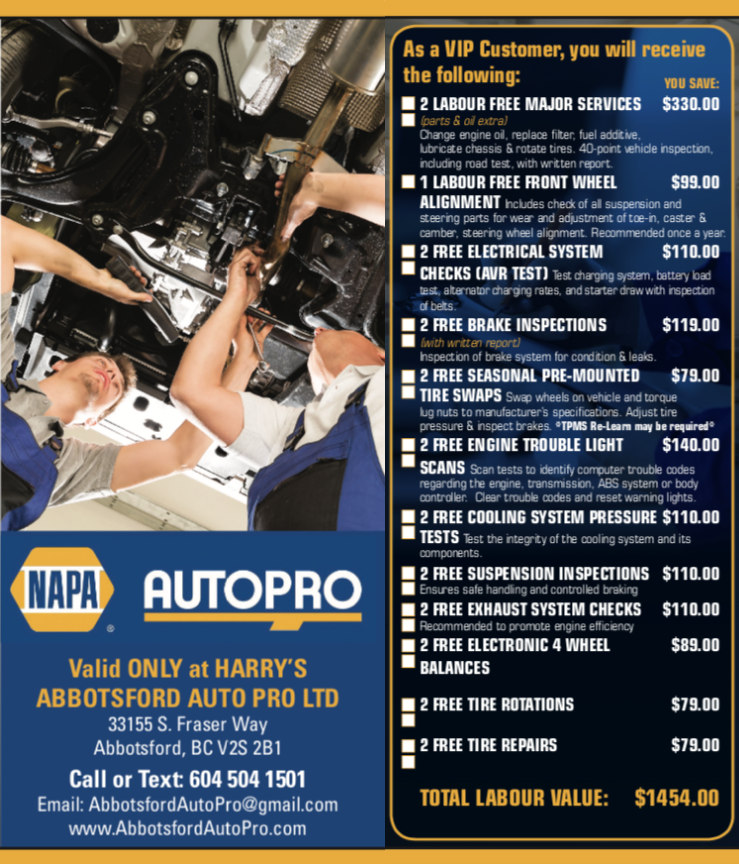 As a VIP Customer, you will receive the following:
TWO LABOUR FREE MAJOR SERVICES – Change engine oil, replace filter, fuel additive, lubricate chassis & rotate tires. 40-point vehicle inspection, including road test, with written report. YOU SAVE $330.00
ONE LABOUR FREE FRONT WHEEL ALIGNMENT – Includes check of all suspension and and steering parts for wear and adjustment of toe-in, caster & camber, steering wheel alignment. Recommended once a year. YOU SAVE $99
TWO FREE ELECTRICAL SYSTEM CHECKS (AVR TEST) – Test charging system, battery load test, alternator charging rates, and starter draw with inspection of belts. YOU SAVE $110.00
TWO FREE BRAKE INSPECTIONS – Inspection of brake system for condition & leaks. (with written report) YOU SAVE $119.00
TWO FREE SEASONAL PRE-MOUNTED TIRE SWAPS – Swap wheels on vehicle and torque lug nuts to manufacturer's specifications. Adjust tire pressure & inspect brakes. *TPMS Re-Learn may be required*

YOU SAVE $79.00

TWO FREE ENGINE TROUBLE LIGHT SCANS –

Scan tests to identify computer trouble codes regarding engine, transmission, ABS system or body controller. Clear trouble codes and reset warning lights.

YOU SAVE $140.00

TWO FREE COOLING SYSTEM PRESSURE TESTS

– Test the integrity of the cooling system and its components.

YOU SAVE $110.00

TWO FREE SUSPENSION INSPECTIONS – Ensures safe handling and controlled braking.

YOU SAVE $110.00

TWO FREE EXHAUST SYSTEM CHECKS – Recommended to promote engine efficiency.

YOU SAVE $110.00

TWO FREE ELECTRONIC 4 WHEEL BALANCES

YOU SAVE $89.00
TWO FREE TIRE ROTATIONS YOU

SAVE $79.00

TWO FREE TIRE REPAIRS YOU

SAVE $79.00
TOTAL LABOUR VALUE $1454.00 – wow!
Valid for 12 months from purchase
Your certificate looks like this…
Any questions? feel free to call our support team toll free on 1-888-632-7443 or email us at info@hannahdirect.ca

Total VIP Package Value:
$1454.00
Today Only:$149.00
Total VIP Package Value:$1454.00
Today Only:$149.00